Sac Metro Real Estate Update - 2022 April
OPINION:  This piece, like the others, may contain opinion.  
The 3 most important words in real estate: Timing, Psychology, Location.  The market Timing is still favoring sellers.  The market Psychology is still driven by fear.  Location is limited because Supply is limited in most locations. The other forces are also having a negative impact on the real estate market.  There are literally NO forces that are limiting the fear and cost of buying and owning a house. (/market)
Market Summary
More Highs set in March. Each County and 25 of the 52 zip codes I track hit Median Price highs. This is not a typical market.
Major Forces
We knew interest rates were going to increase. Mathematically, an increase in the cost of money will force a decrease in housing demand. Nothing happens in a day. (/major)
For some perspective on the history of interest rates, this chart goes back 20+ years. Believe it or not, rates were higher.
And consumer confidence (sentiment) is not getting better. Whether your vision of the near future is bright or not, there are many events in the world which are causing unforeseen consequences. 
As happened in late 2008, many home-builders disappeared (BK, etc.). Then a sharp drop in New Permits was sustained for several years. Builders have financially astute people on staff. That housing "issue" was not foreseen and builders put up houses to their detriment.
Averages
Combining all 52 zip codes tracked in this system, the Averages are derived along with other indicators like Consumption, Appetite, and Turnover. The names are mine and are called other things in the industry. (/averages)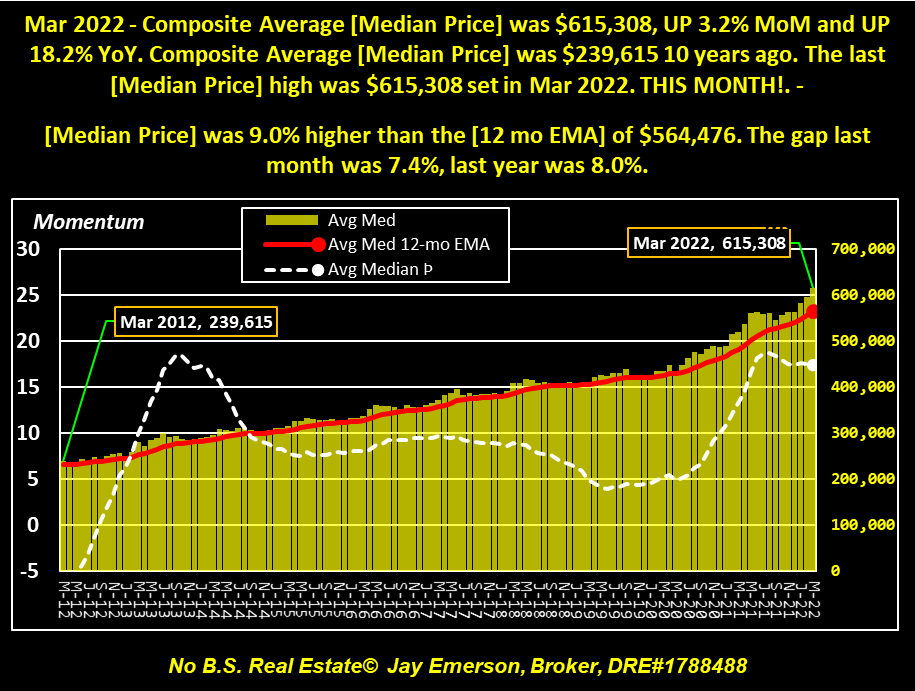 Momentum (Þ)
Technical analysis of a commodity's price is sometimes done with Momentum (Þ) of the price changes. This system also uses the 12-month Moving Average (EMA). Using both helps understand the force, direction, and duration of price changes. Momentum has its own axis and when it crosses ZERO on its axis, a trader notices a potential change from SELL to BUY, or vice versa.
The Swing Indicator calculates how many of the 52 zip codes have upward, downward, or flat changes during each month. Called the Swing Indicator because it shows how a market swings from up to down. (/momentum)
Carmichael 95608 – Median $566K, (Þ▼,MoM▲3.7%,YoY▲0.5%) – Appetite 101.6% – Turnover 116.7% – Consumption 107.0% – www.JayEmerson.com/carmichael
Citrus Heights 95610 – Median $575K (NEW HIGH) (Þ▲,MoM▲4.7%,YoY▲25.0%) – Appetite 101.8% – Turnover 247.1% – Consumption 135.1% – www.JayEmerson.com/citrus-heights
Citrus Heights 95621 – Median $508K (NEW HIGH) (Þ▲,MoM▲6.9%,YoY▲18.7%) – Appetite 118.2% – Turnover 366.7% – Consumption 171.4% – www.JayEmerson.com/citrus-heights
Elk Grove 95624 – Median $695K (NEW HIGH) (Þ▼,MoM▲3.0%,YoY▲18.8%) – Appetite 78.2% – Turnover 145.9% – Consumption 100.0% – www.JayEmerson.com/elk-grove
Fair Oaks 95628 – Median $612K, (Þ▼,MoM▼-4.4% ,YoY▲1.7%) – Appetite 90.0% – Turnover 165.5% – Consumption 117.7% – www.JayEmerson.com/fair-oaks
Folsom 95630 – Median $845K (NEW HIGH) (Þ▲,MoM▲2.4%,YoY▲29.6%) – Appetite 86.0% – Turnover 151.0% – Consumption 107.0% – www.JayEmerson.com/folsom
North Highlnds 95660 – Median $410K (NEW HIGH) (Þ▲,MoM▲1.2%,YoY▲20.9%) – Appetite 140.6% – Turnover 200.0% – Consumption 159.6% – www.JayEmerson.com/market
Orangevale 95662 – Median $565K, (Þ▼,MoM▼-3.6% ,YoY▲12.5%) – Appetite 94.1% – Turnover 145.8% – Consumption 110.7% – www.JayEmerson.com/orangevale
Rancho Cordova 95670 – Median $521K, (Þ▼,MoM▼-2.4% ,YoY▲14.5%) – Appetite 103.5% – Turnover 400.0% – Consumption 158.6% – www.JayEmerson.com/rancho-cordova
Rio Linda 95673 – Median $470K, (Þ▲,MoM▲6.8%,YoY▲22.1%) – Appetite 152.9% – Turnover 250.0% – Consumption 178.3% – www.JayEmerson.com/market
Rancho Cordova 95742 – Median $690K (NEW HIGH) (Þ▲,MoM▲9.5%,YoY▲25.5%) – Appetite 74.2% – Turnover 172.2% – Consumption 110.2% – www.JayEmerson.com/rancho-cordova
Elk Grove 95757 – Median $748K (NEW HIGH) (Þ▲,MoM▲9.8%,YoY▲32.4%) – Appetite 104.4% – Turnover 230.0% – Consumption 143.1% – www.JayEmerson.com/elk-grove
Elk Grove 95758 – Median $625K (NEW HIGH) (Þ▲,MoM▲1.3%,YoY▲25.0%) – Appetite 80.4% – Turnover 191.3% – Consumption 114.9% – www.JayEmerson.com/elk-grove
Arden 95815 – Median $348K, (Þ▼,MoM▼-0.3% ,YoY▲4.5%) – Appetite 80.8% – Turnover 160.0% – Consumption 102.8% – www.JayEmerson.com/market
Downtown 95816 – Median $745K, (Þ▲,MoM▼-4.2% ,YoY▲24.2%) – Appetite 85.7% – Turnover 90.0% – Consumption 87.5% – www.JayEmerson.com/market
Oak Park 95817 – Median $490K, (Þ▼,MoM▲2.3%,YoY▲7.7%) – Appetite 104.8% – Turnover 237.5% – Consumption 141.4% – www.JayEmerson.com/market
Land Park 95818 – Median $810K (NEW HIGH) (Þ▲,MoM▲8.0%,YoY▲29.4%) – Appetite 92.0% – Turnover 175.0% – Consumption 118.9% – www.JayEmerson.com/market
East Sacramento 95819 – Median $800K, (Þ▼,MoM▲4.6%,YoY▲4.8%) – Appetite 94.4% – Turnover 383.3% – Consumption 166.7% – www.JayEmerson.com/market
Elder Creek 95820 – Median $418K, (Þ▼,MoM▲4.8%,YoY▲16.1%) – Appetite 110.9% – Turnover 215.0% – Consumption 142.4% – www.JayEmerson.com/market
Arden 95821 – Median $525K (NEW HIGH) (Þ▲,MoM▲1.0%,YoY▲20.7%) – Appetite 130.4% – Turnover 227.3% – Consumption 161.8% – www.JayEmerson.com/market
Greenhaven 95822 – Median $463K (NEW HIGH) (Þ▲,MoM▲1.1%,YoY▲27.2%) – Appetite 106.3% – Turnover 257.1% – Consumption 140.3% – www.JayEmerson.com/market
Franklin 95823 – Median $456K (NEW HIGH) (Þ▲,MoM▲1.3%,YoY▲20.6%) – Appetite 100.0% – Turnover 264.3% – Consumption 138.3% – www.JayEmerson.com/market
Fruitridge 95824 – Median $370K, (Þ▼,MoM▼-2.6% ,YoY▲10.4%) – Appetite 133.3% – Turnover 154.5% – Consumption 142.3% – www.JayEmerson.com/market
Arden 95825 – Median $541K (NEW HIGH) (Þ▲,MoM▲19.7%,YoY▲24.1%) – Appetite 86.7% – Turnover 125.0% – Consumption 100.0% – www.JayEmerson.com/market
College Greens 95826 – Median $531K (NEW HIGH) (Þ▲,MoM▲6.4%,YoY▲18.0%) – Appetite 88.2% – Turnover 150.0% – Consumption 109.6% – www.JayEmerson.com/market
Rosemont 95827 – Median $479K, (Þ▲,MoM▲2.8%,YoY▲22.8%) – Appetite 116.7% – Turnover 333.3% – Consumption 170.8% – www.JayEmerson.com/market
Florin 95828 – Median $496K (NEW HIGH) (Þ▲,MoM▲10.7%,YoY▲22.8%) – Appetite 65.1% – Turnover 111.1% – Consumption 82.9% – www.JayEmerson.com/market
Vineyard 95829 – Median $625K, (Þ▲,MoM▲7.8%,YoY▲27.6%) – Appetite 97.5% – Turnover 165.0% – Consumption 120.0% – www.JayEmerson.com/market
Pocket 95831 – Median $720K (NEW HIGH) (Þ▲,MoM▲10.8%,YoY▲20.0%) – Appetite 136.4% – Turnover 158.3% – Consumption 144.1% – www.JayEmerson.com/market
Natomas 95833 – Median $512K (NEW HIGH) (Þ▲,MoM▲7.1%,YoY▲21.3%) – Appetite 102.6% – Turnover 187.5% – Consumption 127.8% – www.JayEmerson.com/market
Natomas 95834 – Median $533K, (Þ▼,MoM▼-3.6% ,YoY▲12.0%) – Appetite 97.7% – Turnover 188.2% – Consumption 123.0% – www.JayEmerson.com/market
Natomas 95835 – Median $613K, (Þ▼,MoM▼-3.5% ,YoY▲13.5%) – Appetite 88.9% – Turnover 158.6% – Consumption 116.2% – www.JayEmerson.com/market
Del Paso Heights 95838 – Median $378K, (Þ▼,MoM▼-5.5% ,YoY▲12.8%) – Appetite 89.5% – Turnover 145.5% – Consumption 110.0% – www.JayEmerson.com/market
North Sacramento 95841 – Median $480K, (Þ▲,MoM▼-5.0% ,YoY▲20.9%) – Appetite 92.9% – Turnover 137.5% – Consumption 109.1% – www.JayEmerson.com/market
Foothill Farms 95842 – Median $460K (NEW HIGH) (Þ▲,MoM▲5.7%,YoY▲22.7%) – Appetite 125.0% – Turnover 357.1% – Consumption 166.7% – www.JayEmerson.com/market
Antelope 95843 – Median $569K (NEW HIGH) (Þ▲,MoM▲13.8%,YoY▲28.2%) – Appetite 85.5% – Turnover 218.2% – Consumption 117.6% – www.JayEmerson.com/market
Arden 95864 – Median $603K, (Þ▼,MoM▼-20.7% ,YoY▼-3.5%) – Appetite 113.6% – Turnover 131.6% – Consumption 119.0% – www.JayEmerson.com/market
Placerville 95667 – Median $625K (NEW HIGH) (Þ▲,MoM▲11.6%,YoY▲37.7%) – Appetite 65.1% – Turnover 87.7% – Consumption 75.0% – www.JayEmerson.com/placerville
Cameron Pk 95682 – Median $720K (NEW HIGH) (Þ▲,MoM▲6.2%,YoY▲26.3%) – Appetite 134.5% – Turnover 250.0% – Consumption 168.3% – www.JayEmerson.com/market
Pollock Pines 95726 – Median $440K, (Þ▲,MoM▼-4.3% ,YoY▼-13.7%) – Appetite 80.0% – Turnover 138.5% – Consumption 95.8% – www.JayEmerson.com/market
El Dorado Hills 95762 – Median $1,100K (NEW HIGH) (Þ▲,MoM▲25.7%,YoY▲32.5%) – Appetite 111.8% – Turnover 175.6% – Consumption 134.2% – www.JayEmerson.com/edh
Auburn 95603 – Median $699K, (Þ▲,MoM▲12.7%,YoY▲12.7%) – Appetite 87.1% – Turnover 108.2% – Consumption 95.8% – www.JayEmerson.com/auburn
Lincoln 95648 – Median $694K, (Þ▼,MoM▼-0.7% ,YoY▲15.7%) – Appetite 108.2% – Turnover 213.0% – Consumption 142.7% – www.JayEmerson.com/lincoln
Loomis 95650 – Median $880K, (Þ▼,MoM▼-1.5% ,YoY▼-6.2%) – Appetite 82.8% – Turnover 78.9% – Consumption 81.3% – www.JayEmerson.com/market
Roseville 95661 – Median $753K (NEW HIGH) (Þ▲,MoM▲5.6%,YoY▲16.0%) – Appetite 86.5% – Turnover 320.0% – Consumption 138.8% – www.JayEmerson.com/roseville
Rocklin 95677 – Median $750K (NEW HIGH) (Þ▲,MoM▲12.8%,YoY▲27.3%) – Appetite 261.5% – Turnover 158.8% – Consumption 203.3% – www.JayEmerson.com/rocklin
Roseville 95678 – Median $645K (NEW HIGH) (Þ▲,MoM▲4.0%,YoY▲25.2%) – Appetite 115.4% – Turnover 217.6% – Consumption 146.4% – www.JayEmerson.com/roseville
Granite Bay 95746 – Median $1,497K (MATCHED HIGH) (Þ▲,MoM◄►0.0%,YoY▲39.6%) – Appetite 95.7% – Turnover 70.6% – Consumption 85.0% – www.JayEmerson.com/market
Roseville 95747 – Median $682K (MATCHED HIGH) (Þ▼,MoM▲2.6%,YoY▲13.7%) – Appetite 94.6% – Turnover 198.2% – Consumption 122.5% – www.JayEmerson.com/roseville
Rocklin 95765 – Median $718K, (Þ▲,MoM▲0.6%,YoY▲18.1%) – Appetite 101.8% – Turnover 244.4% – Consumption 136.0% – www.JayEmerson.com/rocklin
West Sac 95605 – Median $395K, (Þ▼,MoM▼-13.4% ,YoY▲1.3%) – Appetite 88.9% – Turnover 60.0% – Consumption 78.6% – www.JayEmerson.com/market
West Sacramento 95691 – Median $603K, (Þ◄►,MoM▼-1.3% ,YoY▲18.9%) – Appetite 108.1% – Turnover 168.4% – Consumption 128.6% – www.JayEmerson.com/market
Placer Cnty – Median $705K (MATCHED HIGH) (MoM▲4.4%,YoY▲15.6%) – Appetite 103% – Turnover 137.7% – Consumption 116% – www.JayEmerson.com/market
El Dorado Cnty – Median $750K (MATCHED HIGH) (MoM▲6.5%,YoY▲19.4%) – Appetite 94% – Turnover 92.1% – Consumption 93% – www.JayEmerson.com/market
Sacramento Cnty – Median $560K (MATCHED HIGH) (MoM▲3.5%,YoY▲16.7%) – Appetite 99% – Turnover 162.9% – Consumption 120% – www.JayEmerson.com/market